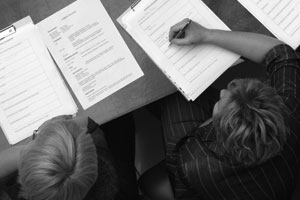 Through a unique partnership with Iowa Legal Aid, eligible Iowa Mortgage Help clients receive free legal services to help them navigate through the foreclosure process. This is an expense that could otherwise add up to thousands of dollars!
Iowa Legal Aid attorneys will provide a range of services to Iowa Mortgage Help clients which may include (determined on a case-by-case basis): legal advice and counseling, preparation of court forms, limited negotiations, and representation in court proceedings.
Iowa Legal Aid also provides Iowa Mortgage Help clients with free legal services for issues and problems that are not necessarily directly tied to a foreclosure case, but may impact whether the modification action will be successful.
These additional services could include, clearing title for property, bankruptcy counseling, preventing wage garnishment, drafting rental agreements for borrowers who have renters in the home, assistance with tax issues, enforcing family law support orders, recouping monies paid by unsuspecting borrowers to mortgage scammers, among other legal issues that may impact a successful mortgage modification application.